For A Limited Time Get A Super Efficient European Efel Wood Stove !/2 Price!!!
Limited Availability!!
The only wood heating stove with a thermostat and an optional programmable digital remote control. Stunning view of the flames with the clean glass, all backed by 150 years of professional stove building experience. The S33 from Efel Heats up to 1,600 square feet and has rear clearance as low as 12".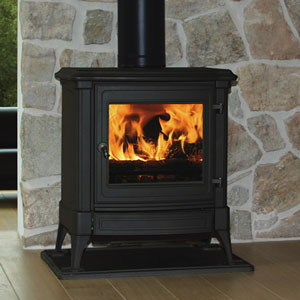 The wood stove that obeys your commands: You have precise control of the intensity of heat with the programmable digital thermostat and the optional remote control kit, all with the touch of a button from the comfort of your couch. The stove regulates itself automatically according to the selected temperature and you can have a calm fire, a roaring blaze or dancing flames: you decide.
Woodbox combustion technology: Crafted by belgian Artisans, this rugged cast iron stove has internationally patented technology gives you unbeatable control over your wood fire.
How it works: Preheated combustion air (over 390°F) is delivered slowly and evenly over the fire, giving you high efficiency, low emissions and long, even burn times. This advanced technology also keeps the glass crystal clear, even when the stove burns on low setting.
Features
Saves wood with 80% efficiency (10 hour burn time)

Rugged cast iron body for optimum heat retention

Double-glazed window

Incredibly strong double wall steel + iron construction

Patented Woodbox Combustion Technology available only from Efel

Airtight firebox constructed of two layers of 10-gauge steel

Cast iron door and internal protection plates

Built-in ash pan, grate and 6" top vent flue connection

No electricity needed

Meets or exceeds international emissions standards

Includes fire safety glove, poker, handles and touch-up paint

Fast igniting; warms your room more quickly

Made entirely in Belgium (remote made in China)

Standard Color: Graphite Black (Painted)

Limited Lifetime Guarantee