Kingsman ZDV3318 Zero-Clearance Direct Vent Gas Fireplace Heater
The Kingsman ZDV3318 Zero-Clearance Direct Vent Gas Fireplace Heater is the ultimate in zero clearance direct-vent fireplaces for new home construction or renovation. Enjoy the elegance and warmth of glowing embers and dancing flames around a 7-piece split oak log set. It is sure to be the focal point of your home.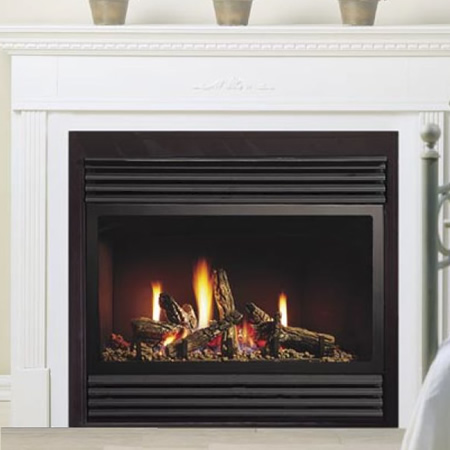 Features:
Hi/Lo SIT valve
7-piece log set
19,000 BTUs NG/18,000 BTUs LP
Approved for bedroom and mobile home use
Choose from a variety of decorative options to create your own distinctive appearance and be assured of complete safety, comfort and long lasting value. Select from a millivolt or intermittent pilot ignition system. The millivolt valve system does not use electricity, but has a standing pilot which allows operation during a power failure with hi-low heat and flame adjustment. The intermittent pilot ignition is electronic and uses an electrode to ignite the pilot. The IPI system ensures the pilot flame extends over the burner for immediate ignition and it conserves energy when the appliance is not in operation.
This fireplace has fully sealed combustion chamber with no pollution spillage to depreciate the indoor air quality of your home. This quality fireplace allows you enjoy the beauty of glowing embers and dancing flames and up to 85% maximum efficiency.
The coaxial vent system is a pipe inside a pipe (generally 4" inside/7" outside). The inside pipe is for exhaust, while the outer pipe brings in outside air for combustion. The design of allows for a completely sealed system that does not compromise inside air quality of your home. It also lets you vent a product horizontally (great for when an appliance is installed on an outside wall). Direct vent appliances are usually limited to a length of 40ft (with a maximum horizontal length of 15ft) that will allow an appliance to function properly.
STANDARD FEATURES*
Hi/low Millivolt or IPI valve system, will operate during power failures
Proprietary burner, with realistic burn
Mobile Home, Bedroom and Bed Sitting Room approved
Safety Screen Barrier*
OPTIONAL FEATURES
Designer Clean View Circulating Kit – (ZDV3318 only)
No louvers required
Grills– (ZDV3318 only)
Available in Black, and Classic Series Black with Antique, Chrome, or Polish Brass accents
Surrounds Wide (Louvered Units) – (ZDV3318 only)
Available in Black
Coverage • ZDV3318 – 31 3/16" h x 36 5/8" w
Surround – Black – (ZCV3622 only)
Covers Framing Dimensions (39" w x 34 1/16" h)
Fan Kit
Heat activated with variable speed control
Wall Mount Thermostat
Standard On/Off or Programmable
5 day (weekday) and 2 day (weekend)
Remote Control
On/Off, Thermostat On/Off,
Thermostat On/Off modulating
Liners
Porcelain Reflective Liner,
Metal Brick Liner
Log Set
LOGC50 - Oak Log Set (ZDV3318 only)
LOGC -51 Oak Log Set (ZCV3622 Only)
* All gas fireplaces manufactured as of January 1, 2015 will include a Safety Screen Barrier.
SPECS
Type: Direct Vent
Style: Single Face Fireplace
Fuel Type: Natural Gas | Propane
Overall Width: 32.375" | 33.5625"
Overall Depth: 15.75" | 18.1875"
Overall Height: 30.5"
Viewing Width: 25.5"
Viewing Height: 14.3125"
Heat Output: 18,000 BTUs
Maximum Heat Output: 19,000 BTUs
Efficiency: 75%
Venting Type: Direct Vent
Venting Diameter: 4" inner | 7" outer
Ignition: Intermittent Pilot Ignition | Millivolt
Certification: ANSI Certified | CGA Certified | CSA Certified
Color Family: Black
Safety Barrier Approved: Yes
Items Included: Pan burner, SIT valve, tempered glass, log set