American Fyre Designs Petite Cordova Outdoor Fireplace
Bringing a taste of the sweet Southwest to your backyard, the American Fyre Designs Petite Cordova Outdoor Fireplace is a genuine work of masonry-styled talent. Raising the outdoor room to a new standard of domestic charm, this fireplace employs tested indoor styles with outdoor originality.
Features:
Glass-fiber reinforced concrete body won't degrade
Complimentary customizable gas plumbing included
Tailored hearth options to fit your needs
Choose between many different finishes
Easy assembly with use of only bolts
Built from a glass-fiber reinforced concrete frame and a high-temperature refractory cement firebox, this unit is specifically designed for longevity and consistent durability. Ready-made for discreet gas conversion, the American Fyre Designs Petite Cordova Outdoor Fireplace is a herald of the outdoor fireplace movement, easily customized to put the gas key and gas line right where you want them
Specs
Fuel Type

: Natural Gas | Propane

Type

: Fireplace Unit

Construction

: Cast

Material

: Glass-Fiber Reinforced Concrete | High-Temp Refractory Cement

Color

: Black Lava | Café Blanco | Canyon | Sedona | Silverado | Smoke | Tuscan Slate | Villa

Firebox Width

: 30"

Overall Width

: 53"

Overall Depth

: 26.5" | 32" | 36"

Overall Height

: 72" | 84"

Chimney Height

: 18"

Ignition

: Match Lit

Item Weight

: 1300 lbs.

Items Included

: Four Herringbone firebox liners
Fireplace Options
Finishes
Select your Fireplace Color
Many heavy texture and sand finish options to choose from
All natural tones
Will easily match your decor
| | | | |
| --- | --- | --- | --- |
| Cafe Blanco | Sedona | Smoke | Black Lava |
Select your Hearth Style
Many styles available
Different sizes available
Cordova hearth depths are 39"
Gas Shut Off Location
Select your Fireplace Gas Shut Off Location
Select the location of your gas line
Options left or right of the unit
Can be located on the back or underneath the unit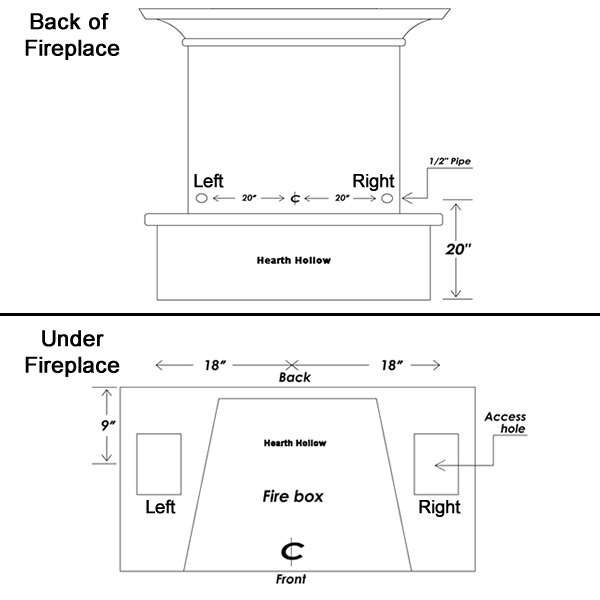 Fireplace Recess
Select your Hearth/Fireplace Recess
Recess allows installation of stone facing
Recess is 2" deep on all vertical surfaces
Choose hearth recess or hearth and fireplace recess