The traditional beauty of the golden oak designer or split oak logs add to the elegant burn of the G9 vent-free burner system. Dancing flames and an ember bed, featuring an innovative reflective panel, offer comforting heat and fireside charm.
The vent free collection offer gas log sets that bring the splendor and warmth of a wood fire without the need for venting your fireplace. Hand crafted logs in a variety of styles, active natural flames and glowing embers magnify the beauty of your hearth.
With 99% heating efficiency, these log sets operate using less gas, saving you energy dollars. ANSI certified for natural gas or propane gas, the vent-free collection is equipped with an oxygen depletion sensor for safe operation. A variety of controls from manual to thermostatic remote, make using your gas logs simple.
All log and burner sets come standard with ODS safety system, custom grate, glowing embers, bryte coals, lava-fyre granules connector kit.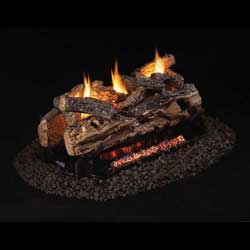 STANDARD FEATURES

24" Split oak see-thru log set

ANSI Certified vent free burner

Pre-assembled control valve

Safety pilot

ODS safety system

Custom grate

Connector kit

Glowing embers

Bryte coals

Lava-fyre granules

BURNER SPECIFICATIONS

Vent free see-thru burner

ANSI certified

Safety pilot assembly

On/off remote control

Oxygen depletion sensor

Manufactured for indoor use

Btu/Hr - 19,000 - 39,000 (NAT)

Btu/Hr - 26,000 - 39,000 (LP)
MINIMUM HEARTH DIMENSIONS
Safety Pilot With Remote - 28" W (front) x 18" D x 18" H x 28" W (rear)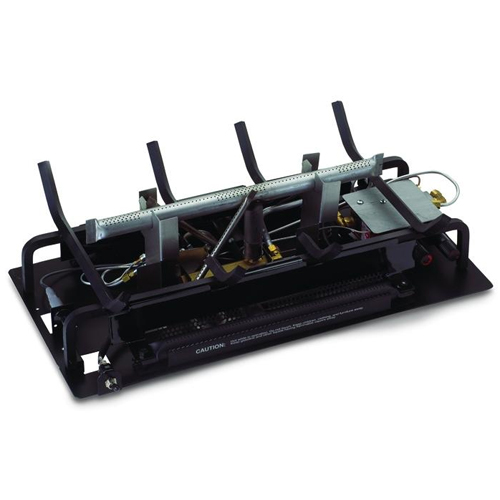 CHECK ALL APPLICABLE LOCAL CODES
Currently, the state of California does not permit the use of vent-free gas appliances. Massachusetts requires the board of State Examiners of Plumbers approval prior to installation. Local codes do vary, we recommend checking your local regulations.
All Peterson Vent Free Ceramic Refractory Gas Logs are WARRANTED for as long as you own them (lifetime)

All Peterson Vent Free Ceramic Fiber Gas Logs are WARRANTED for FIVE (5) YEARS

All Peterson Burner Assemblies are WARRANTED for TEN (10) YEARS

All other Peterson Valves, Pilots and Controls are covered by a ONE (1) YEAR Limited Warranty (excluding batteries)

All warranties apply only to the original purchaser

All warranties are for parts only and DO NOT include labor