Sierra Flame WM-FML-62 – Linear Electric Fireplace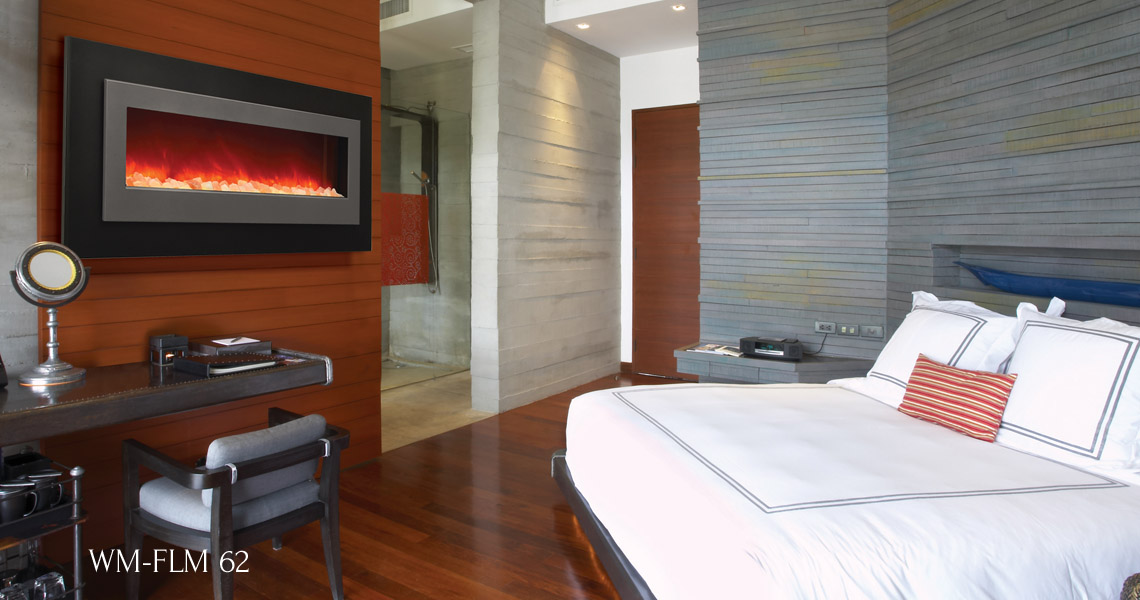 WM-FML-62 – Linear Electric Fireplace
Electric Fireplace with 62″ x 27″ Black Steel Surround and overlay
Offering contemporary elegance in design, Sierra Flame's Flush Mount Linear WM-FML-68 electric fireplace delivers that special something for any room in your home. The gorgeous, life-like 'gradient' flame dances and comes alive on a bed of Himalayan crystals or Sable fire glass, all behind a steel surround and overlay that offers added dimension and an artistic element.
Enjoy the benefits of the remote temperature maintenance control to keep your space warm and cozy. The linear series is perfect for zone heating and can warm a space between 400 and 500 sq ft. For further customizing of your Linear Series electric fireplace unit, create your own look by selecting a custom finish overlay.
FIREPLACE FEATURES
Stunning 'Gradient' Flame
Hard wire ready
13 colours of surround lighting on 3 sides
Black steel surround
4 stage front and 4 stage internal back lighting
Latest LED light technology
Maintains a constant temperature of 25 C
Remote controls included: 1 for flame and heater & 1 for backlighting
Approx. heating area 400 - 500 sq. ft.
Plug on left side
Optional hand finished overlays available through Design Specialties for additional charge
Media included: Himilayan Salt, Sable glass
The Sierra Flame Advantage
All Sierra Flame units are manufactured with the highest quality parts available, from the smallest component to the 18-20 gauge body and stainless steel burner. Our units are designed for ease of installation and servicing and our focus is on keeping the styles fresh and current. As well, our realistic and exceptionally large flame is a noticeable feature that sets us apart from the competition. Our standard units include upgrades that would be costly add-ons with other suppliers like the remote control, quality fire glass media and decorative rock set. We offer to you a finely tuned selection of units -- focusing on quality not quantity and hope that you choose a Sierra Flame fireplace to enjoy for years to come!
LITERATURE
SIERRA FLAME ELECTRIC FIREPLACES AT FIREPLACESRUS.NET YOUR HOME FOR DISCOUNT ELECTRIC FIREPLACES. GIVE US A CALL TODAY 1-855-485-4015 OUR ELECTRIC FIREPLACE EXPERTS CAN ANSWER ANY OF YOUR QUESTIONS ABOUT SELECTRION AND INSTALLATION OF YOUR ELECTRIC FIREPLACE!!!
Surround Options
Available in 8 popular colours, the optional hand finished overlay is Hand finished made to order. Approx. 4‐6 weeks for delivery. Shipping is extra
Ancient Bronze
Aztec Gold
Metro Steel
Sierra Copper
Cast Iron
Silver
Copper Fire
Forged Iron
Optional Overlays:
Steel Finishes - Powder Coats:
Standard Finishes
Steel Finishes - Powder Coats: