Thermorite Decor Fireplace Glass Door
The Décor Fireplace Glass Door is an anodized aluminum enclosure with 2 3/4" top and side panels, and a 11/16" bottom panel. This enclosure boasts of being fast and easy to install using just 4 screws. Its full frame construction assures precise door alignment. The doors open and close effortlessly for easy access to your burning embers.
Features:
Masonry decorative fireplace door
Anodized Aluminum construction
Several finishes available
Tempered - 1/4" thick tinted glass
The standard finishes are polished brass and black. Other finish options are polish and silver, polish and satin, black stock, and black and polish to make matching your décor a breeze. The many glass options include grey or clear standard glass; bronze, grey or clear beveled glass; or bronze mirrored glass for that special designer touch.
This enclosure is available with CV2 bifold tracked doors or FS2 bifold full swing trackless doors that allow you easy access to your fire. You can choose glass channel/handle finishes in antique, stainless, chrome, or pewter to complement or accent your enclosure finishes of eight different colors.
This enclose will bring a touch of class to your hearth area as well as an element of efficiency. Your family will love the cozy feeling of gathering around your warm fireplace and you will enjoy the peace of mind with this beauty in your family.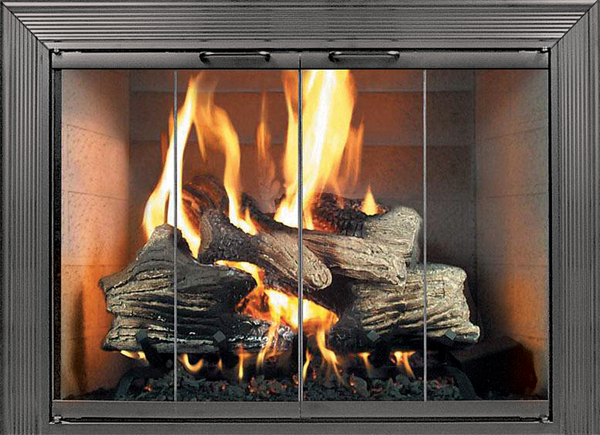 Specs:
Firebox Type: Masonry
Door Style: Tracked Bi-Fold | Trackless Bi-Fold
Shape: Rectangle
Style: Traditional
Material: Anodized Aluminum
Finish: Antique | Powder Coat | Textured
Color: Black | Bronze Iron | Brown | Chestnut | Copper | Gold Antique | Grey Iron | Moss Iron | Natural Iron | New Rust | Old Copper | Old Iron | Pewter | Rust | Silver Antique
Width: 26" - 53"
Height: 19" - 32"
Door Fit: Overlap
Glass Type: Tempered
Glass Thickness: 1/4"
Glass Tint: Bronze | Clear | Gray
Mesh Screen: Optional
Damper: None
Airtight Option: None
Child Protection Feature: None
Assembly Required: Required
Color Family: Black | Bronze | Brown | Copper | Gold | Iron | Orange | Pewter | Silver
Thermo-Rite warrants all new glass fireplace enclosures to be free from defects in material and workmanship for a period of five (5) years from the ultimate sale or installation if performed by the dealer. The warranty is void if the damage is due to improper installation or improper operation. Thermo-Rite warrants tempered glass a lifetime to the original owner. Commercial applications and CV1 glass wider then 16 3/4? are excluded. If the glass should break, Thermo-Rite will supply panels free-of-charge except for the UPS® shipping charges.
Should the customer or dealer want Thermo-Rite to install the glass, a fee of $15.00 plus freight both ways will be charged for each piece. In this case, a Return Goods Authorization (RGA) must be issued. To receive an RGA form, simply contact an inside sales correspondents by calling 330.633.8680. To receive replacement glass, customer or dealer must supply Thermo-Rite with a copy of proof of purchase date to receive a no-charge invoice on the glass.
*Please Note: To ensure accuracy of your order, kindly inspect the door(s) upon receipt. Thermo-Rite shall not be held responsible for any reason after a period of (90) days from date of receipt of order.