Economizer™ EPA Wood Burning Insert
Transform your masonry fireplace into an efficient, clean burning and cost-effective heating source with Timberwolf's EPI22 Wood Burning Insert. The large firebox design accommodates 18˝ logs and allows for a long eight hour burn time.
Outstanding 86% Efficiency Rating THIS GREAT PACKAGE DEAL INCLUDES TIMBERWOLF EPI22 WOODBURNING FIREPLACE INSERT WITH SURROUND AND BLOWER PLUS A 25 FOOT STAINLESS STEEL LINER KIT WITH ALL THE COMPONENTS YOU WILL NEED TO COMPLETE YOUR INSTALLATION. IF YOU HAVE ANY QUESTIONS OR NEED MORE LINER GIVE US A CALL 1-855 485 4015 WE WILL NOT BE UNDERSOLD!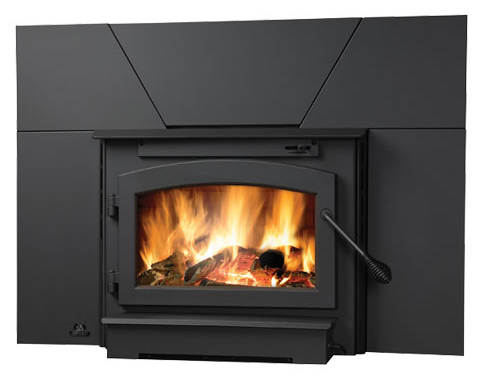 FEATURES & OPTIONS
EPA Certified 2015

Large ceramic glass viewing area

Minimum fireplace opening: 25 7/8˝w x 22˝h x 14˝d

Painted black cast iron door included

Dual blower system included

Includes painted black flashing with 3 ½˝ depth adjustment for installation versatility
*Wolf Steel Ltd. own test results showing realistic BTU's using hardwood logs with regular refueling. Heat output will differ on chimney draft as well as type, moisture content and size of wood.
**Figures may vary with individual conditions such as floor plan layout, insulation value/heat loss of the house, geographical location and firewood used.