The Valcourt Lafayette High Efficiency Controlled Combustion Fireplace Is Clean Burning And Capable Of Heating Up To 2100 Square Feet. The Lafayette Includes A Built In Blower, Fresh Air Intake Adapter, Moulded Refractory Brick & Cast Iron Andirons. The Lafayette Vents On Common 6" Class A Chimney , A Anchor Plate Must Be Used Start Off Your Chimney. Selkirk Metalbestos Class A Chimney Available Under Our Chimney & Venting Components Tab Is Perfect For Venting This Fireplace. If You Have Any Questions Please Feel Free To Give Us A Call 1- 855 485 4015.
French officer and hero of the American Revolution, Lafayette inspired us to create our newest high efficiency fireplace.
As the great general, Valcourt used its tactical skills in developing the Lafayette fireplace so it provides home heating with superb efficiency and elegance.
Further to offering a revolutionary look, Lafayette meets the highest EPA emissions requirements, making it the fireplace of choice for the new generation of consumers who want to use wood as a renewable and clean source of heat.
The VALCOURT LAFAYETTE WOOD FIREPLACE can heat up to 2,100 sq. ft. of space. The maximum burn time for this fireplace is nine hours, and has a maximum heat output of 75,000 BTUs. Multiple Faceplate and door overlay options are available for the Lafayette in finishes of black or brushed nickel.
FEATURES:
75,000 BTUs

Heating area of up to 2,100 sq. ft.

Nine hour burn time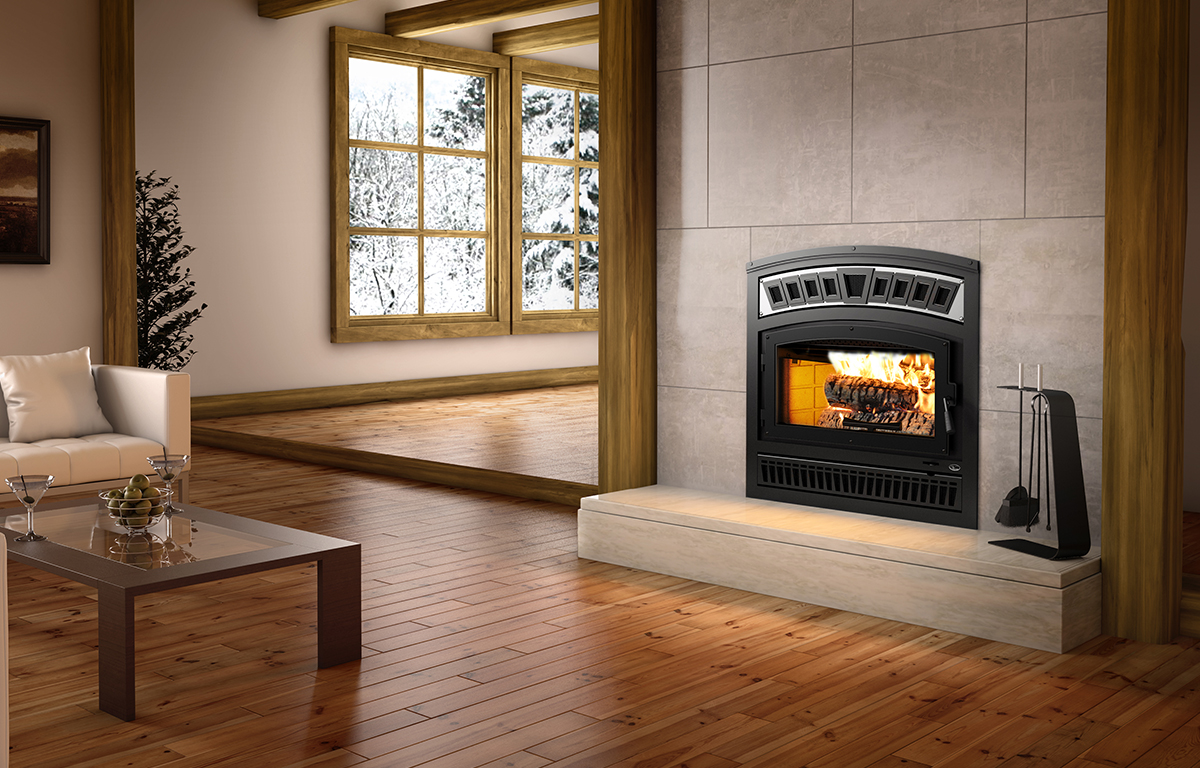 APPLIANCE PERFORMANCE (1)
Fuel type :
Dry cordwood
Recommended heating area (sq.ft.) :

()

500 - 2,100
Firebox nominal volume (cu. ft.) :
2.5
Maximum burn time :

()

9 h
Maximum heat output (dry cordwood) : (2)
75,000 BTU/h (22.0 kW)
Overall heat output rate (min. to max.) : (2) (3)
11,500 BTU/h (3.4 kW) to 30,500 BTU/h (8.9 kW)
Average overall efficiency (EPA cribs / Douglas fir) :(3)
55.0 % (HHV) (4)
60.0 % (LHV) (5)
Average overall efficiency (dry cordwood) : (3)
N.A. (HHV) (4)
N.A. (LHV) (5)
Optimum efficiency : (6) (7)
75 %
Average particulate emissions rate : (8)
4.4 g/h
Average CO : (9)

N.A.
APPLIANCE PERFORMANCE (1)