The Lymance Lock-Top II Fireplace Damper Cap Mounts On Top Of Your Chimney, Operated With Stainless Steel Cable. Keeps Your Heat In And Drafts Out!!
*Lock-Top II Chimney Damper includes everything needed for easy installation
*Comes fully assembled and attaches to top of flue with silicone sealant
*Includes Sweeps Ring for easy removal
*Cable drops down the flue and mounts in the firebox and opens with simple control handle.
*30 foot cable is simple to cut to correct length.
*Free, fast shipping and Guaranteed price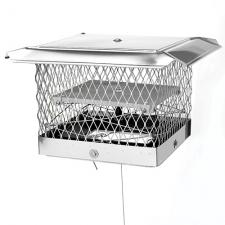 Lock-Top Dampers - The Whole Story

See why most dampers perform poorly and cost you money.
Traditional dampers are located in the "throat" of a fireplace. They are made of cast-iron and are housed in a low-tech frame work.


These cast-iron dampers do not seal well—they have a leaky, rough, metal-to-metal seal.
Recent lab studies have shown that even a new throat damper can leak up to $200 of heating and cooling a year. Imagine how much energy an old, rusted out damper leaks!
The Lock-Top Energy-Saving Damper seals tightly to save you money
Lock-Top's rubber gasket seals tightly like a storm door for your fireplace, and keeps heating and cooling dollars where they should be...in your home.


Lock-Top mounts on top of your chimney to keep out animals and rain.
Lock-Top easily operates from inside your firebox and seals tight everytime you close it—eliminating any draft.