Product Overview
SPECIAL PACKAGE DEAL KINGSMAN 36" TRADITIONAL GAS FIREPLACE
INCLUDED IN PRICE:
FIREPLACE- CHOOSE STANDING PILOT OR ELECTRONIC IPI
LOG SET
5 FOOT FLEX VENT KIT- GOOD FOR INSTALLATION ON A EXTERIOR WALL
WALL SWITCH
Other options available at additional cost including additional venting. If you need a through the roof vent kit please contact us we will work together to get the right parts for you.
The Kingsman ZCV3622 Direct Vent Gas Fireplace allows you to customize to fit your style by choosing an interior decorative liner available in porcelain reflective and brick patterns. The millivolt valve system in this fireplace does not use electricity, but has a standing pilot which allows operation during a power failure with hi-low heat and flame adjustment. The intermittent pilot ignition is electronic and uses an electrode to ignite the pilot. The IPI system ensures the pilot flame extends over the burner for immediate ignition and it conserves energy when the appliance is not in operation. This fireplace has a flame sensor that continuously monitors the pilot flame and provides 100% gas shut off if the pilot is not sensed, offering safety and reliability throughout your fireplace operation. The direct vent system on this unit is a simple closed flue system that allows for air and combustion gas to enter and exit out of the same coaxial flue pipe, making it one of the most efficient gas stoves on the market. Enjoy the elegance and warmth of glowing embers and dancing flames around our seven piece oak log set. It is sure to be the focal point of your home. Choose from a variety of decorative options to create your own distinctive appearance and be assured of complete safety, comfort and long lasting value. With a fully sealed combustion chamber there is no pollution spillage to depreciate the indoor air quality of your home.
Call us with any questions you may have
1-855 485 4015
STANDARD FEATURES*
• Hi/low Millivolt or IPI valve system, will operate during power failures
• Pan burner, with realistic burn
• Mobile Home, Bedroom and Bed Sitting Room approved
•Safety Screen Barrier*

OPTIONAL FEATURES
Designer Clean View Circulating Kit
No louvers required Surrounds Trim Kit – (For Clean View Units)
Black and Stainless Steel (Covers 36" w x 22 1/2" h)
Grills Available in Black, and Classic Series Black with Antique, Chrome, or Polish Brass accents
Surrounds Wide (Louvered Units)
Coverage • ZDV3318 – 31 3/16" h x 36 5/8" w
• ZDV3622 – 34 1/4" h x 41 1/8" w
Surrounds Slim Line (Louvered Units)
Coverage • ZDV3318 – 30 7/8" h x 33 7/8" w
• ZDV3622 – 34 1/4" h x 37 1/2"
Type: Direct Vent
Style

: Single Face Fireplace

Color

: Black

Fuel Type

: Natural Gas | Propane

Overall Width

: 36"

Overall Depth

: 18.125"

Overall Height

: 37.125"

Viewing Width

: 29.75"

Viewing Height

: 18.56"

Heat Output

: 18,000 BTUs

Efficiency

: 66%

Venting Type

: Direct Vent

Venting Diameter

: 4" inner | 7" outer

Ignition

: Intermittent Pilot Ignition | Millivolt

Certification

: ANSI Certified

Assembly Required

: Required

Color Family

: Black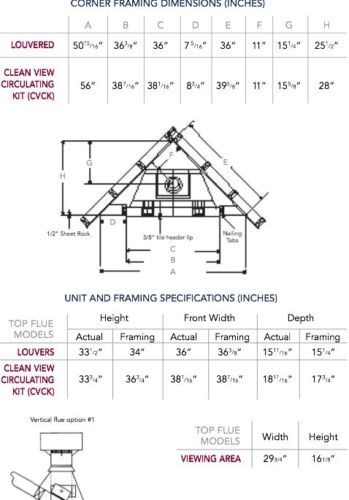 Limited Lifetime Warranty
This Limited Lifetime Warranty applies only while the unit remains at the site of the original installation and only if the unit is installed inside the continental United States, Alaska, Hawaii, and Canada. The warranty applies only if the unit is installed and operated in accordance with the printed instructions and in compliance with applicable installation and building codes and good trade practices.
Basic One Year Warranty: During the first year after installation, the manufacturer will provide a replacement for any component part of your unit found to be defective in materials or workmanship, including labour costs. Repair work requires prior approval by Kingsman, labour costs are based on a predetermined rate schedule and any repair work must be done through an authorized Kingsman dealer.
Limited Lifetime Warranty: The heat exchanger, combustion chamber and burner of every Kingsman product excluding the Outdoor Firepit are warranted against materials or workmanship during the period the product is owned by the original owner. The part to be replaced must be returned to the manufacturer's distributor in exchange for the replacement part. Any labor, material, freight and/or handling charges associated with any repair or replacement pursuant to this Limited Lifetime Warranty will not be covered by this warranty.
Reviews